Visit Spark! Imagination and Science Center
Location: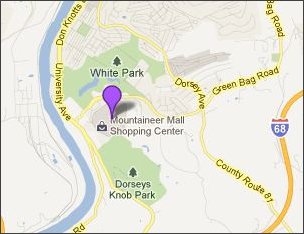 Spark! is located inside the Mountaineer Mall at 5000 Greenbag Road.
From Greenbag Road, turn at the light for Giant Eagle. Go past Giant Eagle and come to a three-way stop (you are the side that doesn't stop). Turn left (this will take you to the outer loop of the mall parking lot). There will be a green fence on the right; turn right just past the green fence (this will take you towards the mall). You will come to a place where the mall is straight ahead and you have to turn left or right, turn left. Look for the Spark! sign over our door.
Enter from the parking lot, there is no access from inside the mall.
Hours:
Tuesday through Saturday
10:00 am to 1:00 pm
Admission:
Free – Children under 12 months
$6.00 – Children over 12 months
$2- Adults
Discounts and Free admission:
Spark! Imagination and Science Center is a Museums for All facility. Show your EBT card or WIC card and receive free admission.
Participants in West Virginia Birth to 3 during a therapy session receive free admission
$1 off general admission for:
Group rates are available for scheduled groups. To learn more about our educational field trips visit the field trip section of the website or contact Tiffany at educator@sparkwv.org
To learn about Spark! memberships, click here.