Celebrate your child's birthday at Spark! Imagination and Science Center!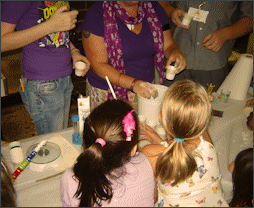 Parties Include:
Exclusive use of the museum for 1.5 hours
Use of our Party Room
A craft that fits the theme of your party
To Schedule a Party:
Email or call (304-292-4646) to see if your choice of date and time is available.
Parties are held after hours:
Fridays 5:30-7:00 p.m.
or
Saturdays 2:00-3:30 p.m. or 4:30-6:00 p.m.
or
Sundays 12:30-2:00 p.m. or 3:00-4:30 p.m.
Then, print out the Birthday Party Form, fill it out and send it with your $25 deposit to:
Spark
P.O. Box 104
Morgantown, WV 26507
If you have any questions, do not hesitate to ask!
Birthday Party Pricing:
$100.00 for 10 children or less
$125.00 for 10-15 children
If more than 15 children, there is an additional $5 charge per child.
Do you want to save money on your birthday party with us?
Become a member and receive a discount on your birthday party!
Not your birthday? Spark! is a great venue for baby showers, going away parties, small business parties and much more. Contact the director for more information.